Model 06-L, 06-M Small Flow Valves
Despite small flow type valve, inherent range-ability of these models is very wide (model 3306-L: 50:1, 3306-M: 500:1). Therefore these models are most suitable for control of varied process, for example, pilot plants, research & testing equipment and so on. Also, these models are suitable for the device that adds very small amount of coloring agent to the process in petroleum refining plant and the very small amount of hydrogen to charge device in the petrochemical plant.
In particular, model 3306-M of high range-ability, sometimes let one valve control possible where usually two valves are needed.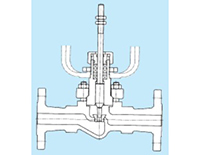 Model No.
06-L
06-M
Service
Small Flow
Small Flow with Wide Range-Ability
Valve Size
4mm to 25mm (4 to 15mm for Screwed End)
10mm to 25mm (6 to 15mm for Screwed End)
Pressure Rating
JIS
10K to 40K
10K to 40K
ASME/JPI
150 to 600
150 to 600
Max. Temp.
+350℃
+200℃
Seat Leakage Ratio
0.01%(Ⅳ)
Ⅵ (Soft Seat)
Range-ability
50:1
500:1
Bulletin No.
MCE-B1601
MCE-B1601