Model 2992 Eccentric Rotary Plug Valves GYROLL®
Model 92, "GYROLL®" is an eccentric rotary plug control valve. The eccentric plug does not contact with the seat ring until it fully closed.
Therefore, it provides long seal life and smooth controllability by low torque without seat wear. This valve realize wide range ability(100:1). "GYROLL®" is suitable for heavy duty services such like slurry or fiber containing fluid without any dead spot inside the body.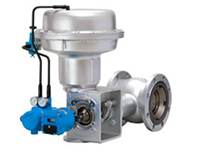 Service
General Services
Valve Size
25A to 350A
Pressure Rating
JIS
10K, 20K
ASME/JPI
150, 300
Max. Temp.
Metal Seat 500℃, Soft Seat 200℃
Seat Leakage Ratio
0.01%(Ⅳ) or 0.001%, (Ⅵ) Soft Seat
Range-ability
100:1
Bulletin No.
MCE-B2703