Model PA92A Pneumatic Valve Positioner
Model PA92A pneumatic valve positioner is a force-balanced instrument with semi-bleed type that is mounted on control valve with a single or double-acting actuator.

■ Features
1. Compact and light weight design.
2. Available to control either single or double-acting actuator, linear and rotary motion,
 small flow valve and split-range services.
3. Available to operate manually with manual selector mechanism.
4. Minimized running cost with low consumption of Air.
5. Simple and strong construction and excellent reliability.
6. Extremely easy to adjust and maintenance by having a component unit of adjustment
 mechanism.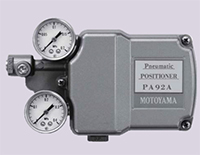 | | |
| --- | --- |
| Supply Air Pressure | Max. 700kPaG |
| Input Signal Range | 20 to 100kPaG |
| Output Air Pressure | Max. 700kPaG |
| Standard Stroke | 10 to 100mm (Linear motion) / 60° (Rotary motion) |
| Air Consumption | 5 ℓ/min Nor (Sup. 140kPaG) |
| Weight | 1.1kg |